Abstract: This article introduces the application of multifunction energy meter in a project in Guatemala. APM series of energy meters are designed according to IEC standards and have the functions of full power measurement, power statistics, power quality analysis and network communication. They are mainly used for comprehensive monitoring and diagnosis of power supply quality of the power grid and power management. This series of meters adopts a modular design. When customers need to add switch input and output, analog input and output, SD card recording, and Ethernet communication, they only need to insert the corresponding module on the back to flexibly realize the full power measurement of electrical circuits and switch status monitoring.
Keywords: Multifunction energy meter, panel energy meter, Intelligent power meter, Industrial projects
1.Project Overview
This project is located in a factory in Guatemala. It mainly uses APM830 three phase energy meter to measure various electrical parameters and harmonic analysis. It requires Ethernet connection and data report export function. After confirming the current, voltage, wiring method and other parameters with clients, we recommended APM830/MLOGMCE as their best choice.
2.Product Introduction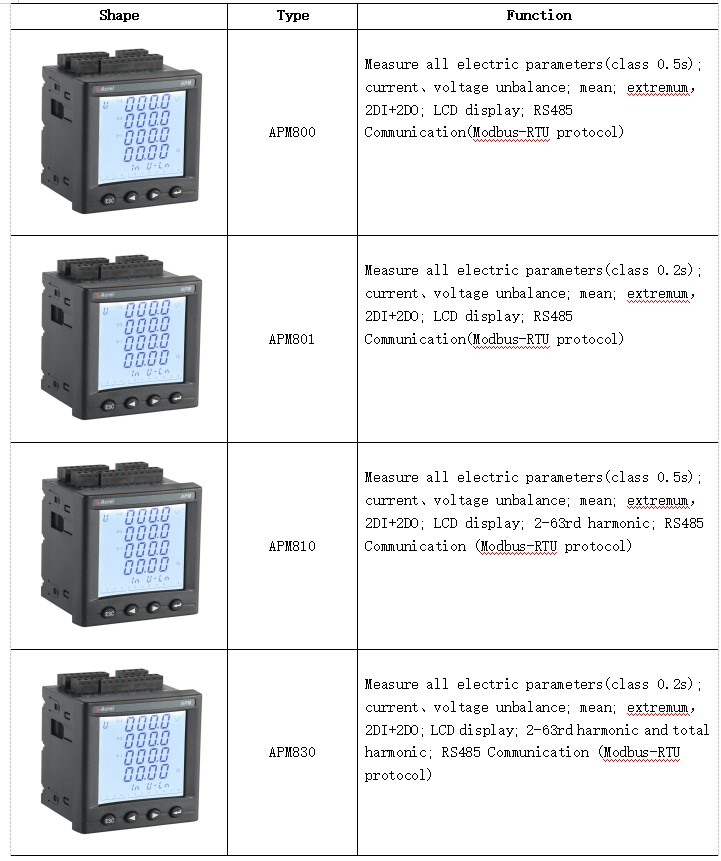 3.Features
(1) Measurement parameters: full power measurement, four-quadrant power measurement.
(2) Pulse output: active and reactive energy pulse output.
(3) Demand measurement: three-phase current, active power, reactive power, apparent power real-time demand and large demand (including time stamp).
(4) Extremum statistics: current, line voltage, phase voltage, active power, reactive power, power factor, current total harmonic, voltage total harmonic, etc.
(5) Power quality: current, line voltage, phase voltage unbalance; voltage and current total (odd, even) harmonic content; voltage and current sub-harmonics (2-63 times) harmonic content, etc.
(6) Alarm record: A total of 66 alarm types, each of which can record 16 alarm records, and supports SD card expansion records.
(7) Event record: It can record 128 event records and supports Micro SD card expansion record.
(8) Optional function: multi-rate energy statistics; 8DI+2DO; Micro SD card storage; 8AI+4AO; 1 RS485/Modbus-RTU; 1 Profibus-DP; 1 Ethernet, supporting Modbus-TCP, http, SMTP, DHCP protocol, etc.
4.Installation Dimension
5.Wiring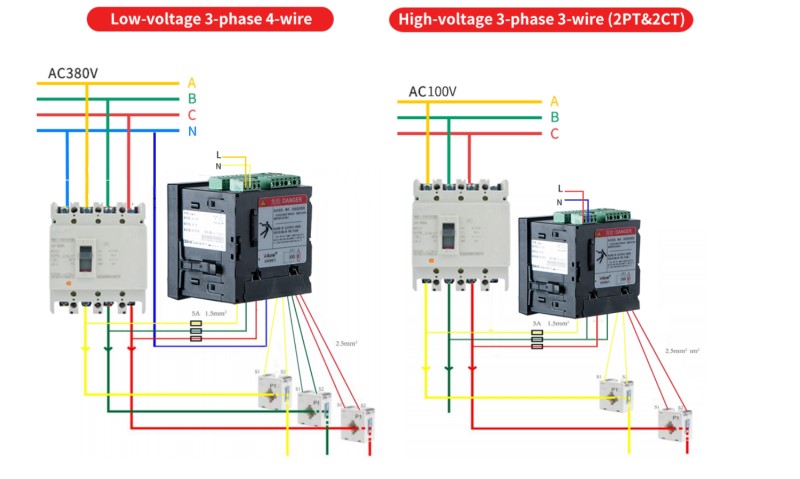 6.On Site Photos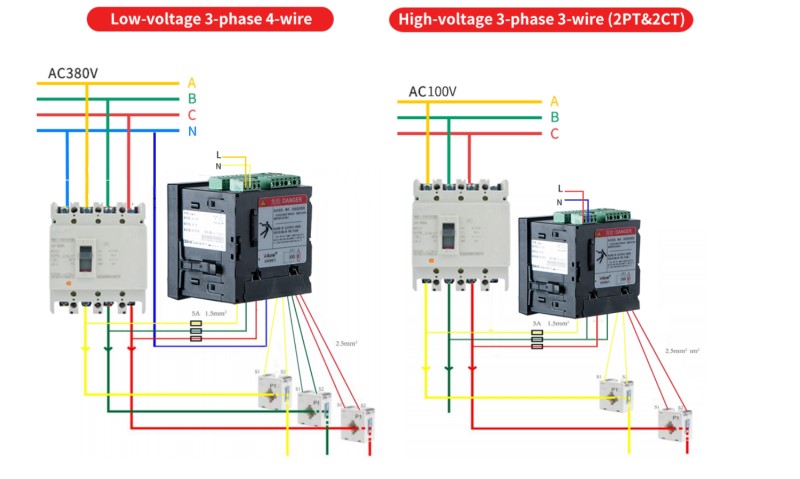 7.Summary
In the application of today's power distribution facilities, the power distribution safety of the factory is very important. The application of Acrel multifunction energy meters described in this article in a factory project in Guatemala. The APM series of multifunctional energy meters implement energy monitoring for commercial buildings, industries, energy and infrastructure. The APM series of multifunctional energy meters are ideal for medium and low voltage power distribution systems, generator sets, motor control centers, industrial automation control systems, energy management systems, and power monitoring systems.
Bibliography
1.Solutions For Enterprise Micro-grid System 2020.04